A typical meal for me would be one that sounds good for me. Since I'm only eating in smaller windows I do tend to have a fattier meal – but trying to focus more on healthier fats. 

I'll make a chicken in the InstaPot, salads with nuts and seeds, cheeses that I like, olives, avocado, vinegar & oil.
It's fairly easy for me to go without eating. What's more difficult for me to do is to eat a lot of things I don't like. Having found a way around that was a change. I may not like veggies that much, but if I find some fats that I like that go with it, seems to be fine.
What types of struggles have you dealt with during this time? What was the hardest thing? Are there times where you have had to show yourself compassion along the way?
I guess vacation has been a bit of a struggle because you do have the constant feeling that you might not be able to get back on track, plus the overwhelming temptations of eating unhealthy. 
Right now, I just got back from vacation so I'm at a bit of a stall, but I know I'll get back on track. I did enjoy it, even if I knew it might take me back a bit. 
I'd still like to lose another 60-70 lbs, but I'm hopeful about it. 
I think for me regulating and making sure I get back on track would probably be the biggest struggles. 
Go on a vacation and relax knowing you'll get back to it after.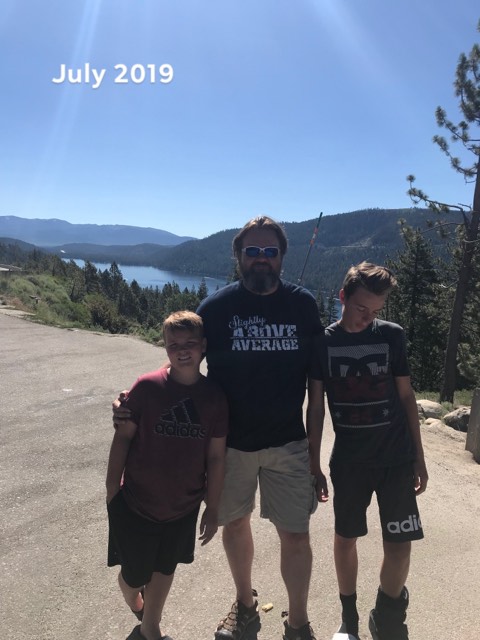 I realize I might have to regulate a bit my vacation meals in the future, but right now I'm pretty confident that even with a break I didn't go totally overboard. 
I've also struggled with compassion for myself all my life.
Maybe now I am the most compassionate to myself in a way, and that's probably because I am a bit more hopeful and confident because I've seen results. 
I know I can get back on track. And it was actually fairly easy for me.
My wife is also one of the reasons why it's easier for me. She's fantastic. She made it really easy on me as I just have to adapt a bit my meals after she cooks. Plus, I've seen that it's actually a bit easier with my fasting. Even if I'm fasting and my family's having lunch, let's say, I can spend some quality time with them.
How has your life changed since you transformed? What are you most proud of?
I've got to admit it was so pleasant for me to see that I'm down a few sizes. 
Shirts no longer hugging me, pants that were in the closet for a few years now fit again.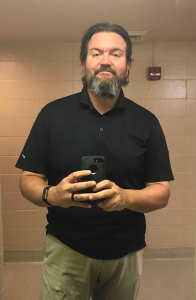 Plus, seeing that I am more active and able to do more and more things with my family. That's probably the biggest accomplishment for me.
I feel like I found some ways to make my life not so hard. And health is one of the ways to make life easier.
Health problems can come either way, but I feel good knowing I'm trying to reduce their chances.
Are you exercising too? If so, what is your routine? 
I don't like going to gyms. Too much of a time crunch. So I have some weights in my basement. 
If I'm adding in my stretching exercise as well and I'm in a good week, I'll probably exercise 5-6 days/ week, 30min-60 min daily.
I've been doing P90x and beach-body workouts, Insanity, more cross-training. A yoga session some days, a cardio workout, plus weight lifting.
What about tracking? What works best for you?
I've been using measuring and the Progress App. I've realized that I'm always unclear about my consistency (if the measures are done correctly) so I tend to rely on the scale more, together with waist measurements.
I weigh and measure about once a week.
What would you want other people who are struggling with their wellness to know?
I was battling a wrist injury so I wasn't really able to work out for the first six weeks of my journey and I still lost a lot of weight. 
Find something that works for you (exercise/diet), don't give up and be compassionate to yourself.
All in all, for me personally, this has been the easiest thing I've done. If someone would have told me "drop the sugar and sodas" and "eat in smaller windows", I probably would have started long ago.
What worked for me was sticking to the mindset of "I'm not going to quit". I don't want to be the dad that was sick and tired all his life. If you don't give yourself the time to give up, you'll wake up one day halfway through your journey, feeling healthier and more in shape than ever. And that's one amazing feeling.
And whatever happens, get back up!
"Fight on, my men", Sir Andrew said.
 'A little I'm hurt but not yet slain. 
I'll just lie down and bleed a while 
and then I'll rise and fight again."