If you're thinking of adding makeup to your workout routine, you're not alone. Whether you're intentionally creating a look for the gym or you simply don't have time to take it all off as you race from the boardroom to the barbells, more and more women are working out with a full face of makeup.
And, predictably, everyone has an opinion about it: "You can't do a serious workout if you wear makeup." "It's bad for your skin." "Won't it just slide off?" "You're just doing it for Instagram."
Or, maybe – just maybe – it's nobody's damn business if you want to wear makeup. But for anyone undecided, here's our guide to getting the most out of the workout warpaint.
Is it OK to wear makeup to the gym?
YES – if that's what YOU want to do. Your personal choices really shouldn't be up for discussion.
Sure, dermatologists warn that sweating under heavy makeup can lead to clogged pores, breakouts and even skin sensitivities. But it's easy to make simple swaps and smart choices to make sure the products you use on your skin allow it to breathe as much as possible.
Skincare considerations aside, makeup at the gym is absolutely a case of 'you do you'.
If the ritual of applying makeup helps to focus your mind on smashing that personal best, go for it.
If looking put together at the gym gives you the confidence to crush your workout, go right ahead.
And if you can't stand the thought of having anything on your face during your next sweat-fest… that's OK too.
So, what's the best gym makeup?
You may need to shop around to find the products that suit you best, but there are some general rules to follow when you're choosing your gym look.
Foundation:
The main issue dermatologists have with wearing makeup at the gym is that heavy foundation can create a barrier on the skin that stops it from carrying out a basic function – flushing out dead skin and debris as you sweat. And if your pores remain blocked, that's when you might have to start dealing with problems like breakouts and other irritations.
The answer is to look for oil-free tinted moisturizers and BB creams that sit lightly on the skin. Go for 'non-comedogenic' products – that's a fancy of saying it won't block pores.
Try this:
NARS Pure Radiant Tinted Moisturiser ticks all the boxes; it evens out skin tone, it's non-comedogenic, it contains a good level of SPF to protect your skin from UV damage, and it also offers hydrating properties.
Mascara and Eyeliner:
To avoid the dreaded eye smudge, go for high performing waterproof products – and don't feel like you have to search out brands developed specifically for the gym either. Some high street brands are just as good, so if you already have a waterproof mascara at home, try that out first before splashing out on something new.
Try this:
BADgal Waterproof Mascara from Benefit and Thrive Causemetic's Infinity Waterproof Eyeliner both have great staying power.
Lips:
Lipsticks can smudge and become uneven as your workout progresses, so try using a tinted lip balm for glossy coverage, or a lip stain for something more hard wearing.
Try this:
Burts Bees Tinted Lip Balm is a great option. It comes in a variety of colors and helps to nourish lips too.
Set it:
If you want to be doubly sure your makeup will last, try a light finishing spray to set the makeup.
Try this:
[easyazon_image align="none" height="500″ identifier="B00JZKWOGY" locale="US" src="http://theprogressapp.com/blog/wp-content/uploads/2017/08/31VXH5ZAjeL.jpg" tag="progblogus-20″ width="127″]
[easyazon_link identifier="B00JZKWOGY" locale="US" tag="progblogus-20″]Skindanavia's Makeup Setting Spray[/easyazon_link] is great for adding a healthy glow AND keeping your makeup in place.
Take it off:
It's all very well using products that can hold up to even the sweatiest workout, but if you want to really look after your skin, you need something that will cleanse your face when you're done.
Try this:
[easyazon_image align="none" height="500″ identifier="B006ZR92SS" locale="US" src="http://theprogressapp.com/blog/wp-content/uploads/2017/08/412BsmqfbWTL.jpg" tag="progblogus-20″ width="500″]These [easyazon_link
These [easyazon_link identifier="B006ZR92SS" locale="US" tag="progblogus-20″]Neutrogena Oil-Free Cleansing Wipes[/easyazon_link] can help to take off the most stubborn makeup and also contains salicylic acid, which helps to prevent spots. They're great to sling into your gym bag for a quick post-workout clean, even if you have a more rigorous skin care routine planned for when you get home.
The final word on gym makeup
Whether you do or don't, you're absolutely right. Just be sure to make smart choices for hassle-free, sweat-proof coverage. And don't worry about the haters – while they're busy throwing shade, you'll be moving ever closer to your health and fitness goals.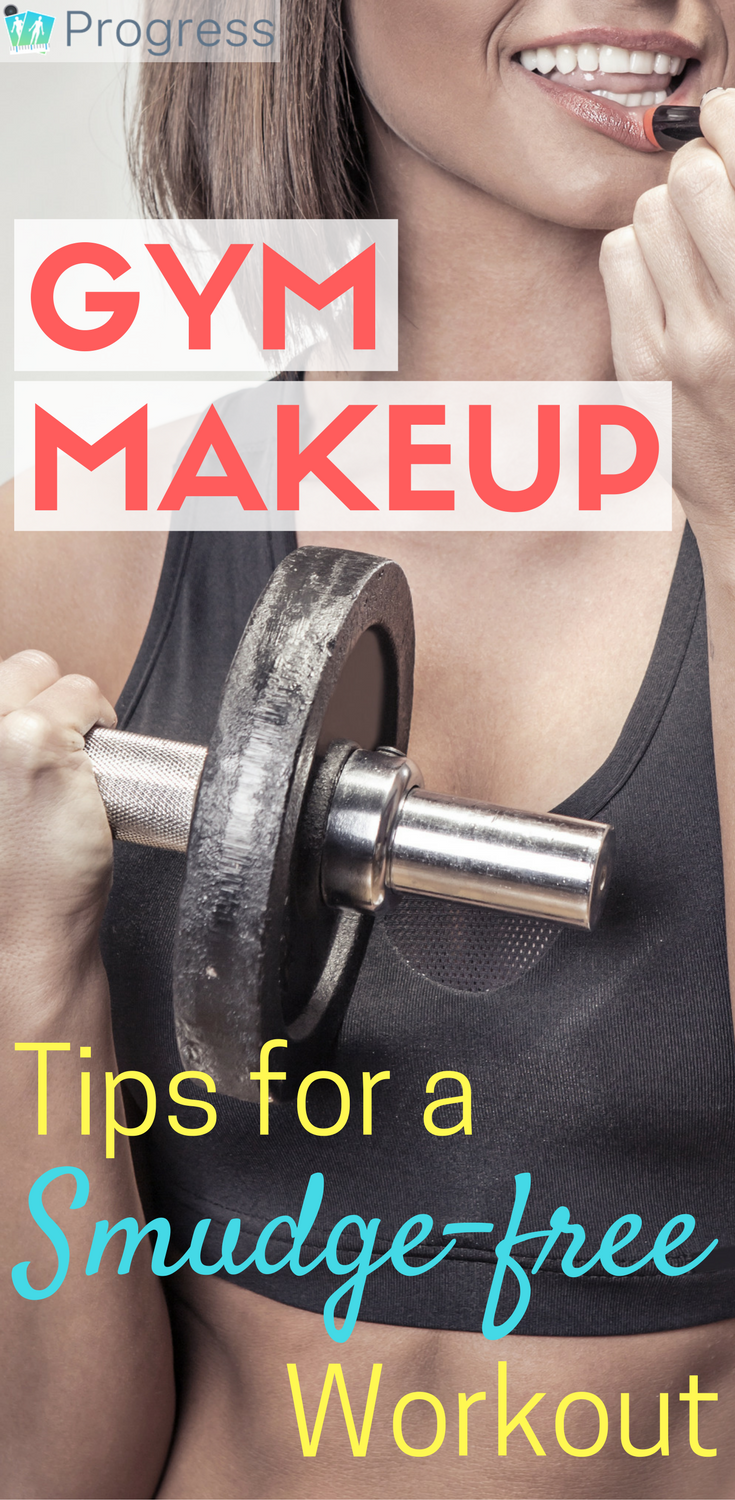 If you're working hard to lose weight, why not take a look at our weight loss tracking app, Progress? It allows you to log weight, body measurements, body fat and photos for a 360-degree view of how you're progressing.