Baby, it's cold outside… and if you think I'm freezing my butt off exercising in THAT, you're crazy.
I'd love to say that I'm one of those hardy types who can go for a run in freezing rain, or who doesn't mind trudging off to the gym in the dark, but once the days start drawing in, my motivation to leave the house to exercise seems to get packed away along with my summer clothes, open toe sandals, and the BBQ equipment (until next year, my delicious meat-grilling friends).
But that's not to say I don't want to exercise. In fact, I can't even think about skipping exercise these days – if I don't get to workout at least 5 times a week, I start feeling jittery, my mind gets anxious and I can't sleep.
And then there are all those comforting winter foods to counteract too. Anyone else desperately searching Pinterest for 'healthy winter recipes'?
Needless to say, finding a good set of home workouts for during the colder months has been a mission of mine for years now.
After a lot of testing and refining, I've finally come up with my top 5 winter home workouts – I switch between them depending on how I feel, but these have been my go-to home workouts over the last four years.
[easyazon_link identifier="B00127RAJY" locale="US" tag="progblogus-20″]30 Day Shred[/easyazon_link]
I absolutely LOVE Jillian Michaels' workouts – at one point I had three of her DVDs in constant rotation: [easyazon_link identifier="B00127RAJY" locale="US" tag="progblogus-20″]30 Day Shred[/easyazon_link], [easyazon_link identifier="B004EMIG4M" locale="US" tag="progblogus-20″]No More Trouble Zones[/easyazon_link] and [easyazon_link identifier="B004EL516O" locale="US" tag="progblogus-20″]Banish Fat, Boost Metabolism[/easyazon_link]. All of them kicked my butt, but I particularly loved the 30 Day Shred because there's something really satisfying about a workout with a clear progression.
The idea is that there are 3 levels of workout, each getting progressively harder. And, as the name suggests, you workout every day for 30 days, moving onto the next level of intensity every 10 days.
Now, if you consider yourself fairly active, as I do, you may be tempted to skip straight to level two, or even level three, and I would say that is a big mistake. Not only is level one a decent challenge anyway, but all three levels of workouts work on different parts of your body so you need to go through the process to get a really good full-body workout over the month.
The only downside to this is that you need a set of [easyazon_link identifier="B017X5OG8G" locale="US" tag="progblogus-20″]weights[/easyazon_link], but these are fairly inexpensive on Amazon and they can be with you the next day if you're signed up for Prime.
Pros
Each workout is only 20 minutes long (but intense)
It motivates you to get to the next level
It's SO satisfying to reach the end of the programme and see how your fitness has improved
Cons
You need equipment (a set of weights)
It's not clear what to do after the 30 days ends – I continued by mixing up the 30 Day Shred workouts thereafter and buying another couple of her DVDs (which was probably what they want you to do!)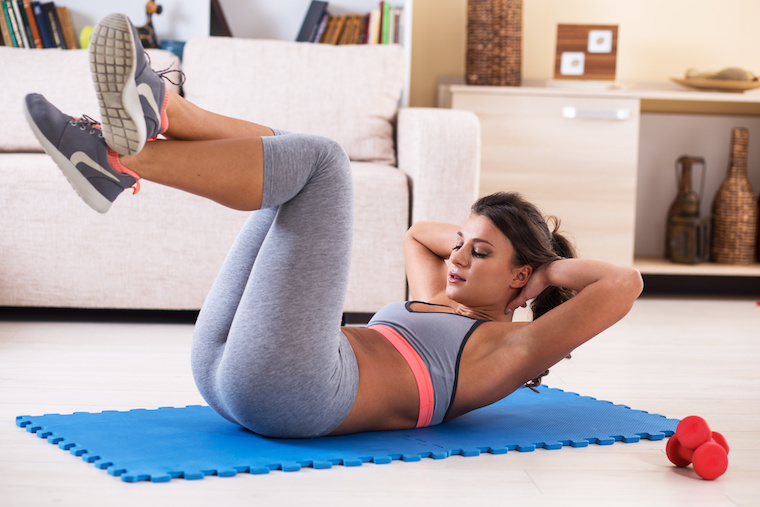 This is my absolute FAVORITE thing at the moment, hands down.
Now, if you haven't heard of this company before, you may be wondering who this Les guy is and whether he'll be stopping by in person to demand some high knees and sit-ups. In fact, Les Mills On Demand (LMOD) is just the online version of an absolutely HUGE Kiwi group fitness empire that's responsible for popular gym classes such as BodyPump, BodyCombat and CXWorx.
I used to go to some of these classes years ago and, honestly, they are so much fun. I highly recommend signing up for some if there are instructors nearby, and you don't mind leaving your house in winter to attend (!).
However, for my fellow winter hermits committed to working out at home, sign yourself up for a free trial and tell me you don't love it after those first 10 days. I don't get any commission for referring you, by the way, I just love it THAT MUCH.
So what actually is it? Well, it's a collection of pre-recorded workout classes led by instructors.
The list of home workouts include:
BodyAttack – athletic training, lots of cardio and conditioning
BodyBalance/BodyFlow – a lovely yoga/pilates based workout
BodyCombat – my absolute fave – mixed martial arts combined with HIIT
BodyPump – strength training with barbels
BodyStep – step workout
CXWorx – core conditioning with weights and resistance bands
Grit – 4 different categories – cardio, plyo, strength and combo – all pretty badass
RPM – this is their version of spin class
Sh'bam – a fun dance workout similar to Zumba
That's A LOT of variety.
At first I was a little bummed out that I couldn't make the most of all these classes unless I dropped a lot of cash on things like weights, an adjustable step, an exercise bike, etc, but honestly, I've found that I have more than enough variety with the equipment-free workouts available, especially as new workouts are being released all the time.
That said, I did splash out $32.99 on a Les Mills resistance band for CXWorx and I don't regret it for a moment. Those workouts are killer and I can take the band with me anywhere!
The only other downside is that their app still needs a lot of work. It's fine for simply playing the videos (you can also play the videos online) but there's currently no way of favoriting workouts, and you can't see which workouts you've done recently. These are relatively minor issues though.
Now, unfortunately, you don't get this level of awesomeness for free. There's a $12.99 monthly subscription attached but I genuinely think it's worth every penny.
Like I said, feel free to sign up for the free trial and see for yourself – you can find out more at lesmillsondemand.com
Pros:
Tons of variety
New workouts added weekly
High-quality instructors
Different lengths of workout available
Equipment-free workouts available
It's hella good value
Cons:
Some of the workouts require equipment
Some workouts require space to get the max benefit
There's a subscription fee
I first tried out yoga in Chiang Mai, Thailand, and I loved how strong and flexible I became in the classes I took there. I wanted to carry on my practice when I left, but I didn't want to commit to more classes so I looked for an online version instead. That's when I found DOYOUYOGA.
I backed this website when it was a Kickstarter way back in 2013, and I still use it now. I particularly love just how many videos are on there and how varied it is – there are always challenges you can sign up for, beginner's guides and how-tos, and they really encourage users to comment and become part of the community. I also like how it doesn't take itself too seriously – yes, there are blog posts about being vegan and developing mindfulness, but they also have goofy roundups of internet reactions to the Game of Thrones finales and memes about not being a morning person.
As for the home workouts themselves, there's something for everyone regardless of experience. In fact, there's a 28 Day Beginner Programme along with a 14 Day Yoga Challenge to check out for free, amongst others.
Personally, I've found that I use LMOD more often these days (and they have a lovely yoga/pilates hybrid called BodyBalance) so I haven't kept up my premium membership this past year – but I still have access to all the practice videos and challenges I signed up for and I dip in now and again to repeat them or to go back and practice some of the basic flows.
Premium is $15 per month (there's a $1 free trial of premium) or $120 for the year.
Pros:
Lots and lots and lots of great flows, guides and challenges to get stuck into
Cheaper than going to classes
Unlikely to disturb the neighbours
Cons:
There's a subscription fee
Like any online yoga programme, you don't get the benefit of form correction from an instructor
There are a lot of YouTube channels out there focusing on home workouts, but only a couple that I actually enjoy going back to again and again. My favorite of the bunch is XHIT, a collection of workouts of different lengths focusing on different parts of the body.
It's very heavily geared towards women, so you can find a lot of 'Victoria's Secret' workouts and leg/arm/abs workouts. Sometimes I find this fun and motivating and sometimes it just irritates the hell out of me. Equally, I find it annoying that the weights used for some of the workouts are super girly and light.
Women SHOULD lift heavy weights – it's not going to make us bulky or masculine, it makes us strong and toned.
I actually started using XHIT regularly after seeing a case study from a woman who did the 'How to Get Toned Arms' workout and got some serious results. And while I really enjoyed doing that workout myself and mixing it up with a few others on there, I felt in need of more of a challenge.
That said, this is an amazing, totally free resource for beginners. Like I said, some of the workouts require weights, but there's plenty here you can do with no equipment at all.
Pros:
Completely free
Fantastic for beginners
Playlists available for longer workouts
Cons:
Promotes unrealistic results (e.g. 'How to legs like Jennifer Lawrence')
Not always hugely challenging
I wrote a whole article about the science behind the 7-Minute Workout and why it's really the 21-Minute Workout.
This workout was a lifesaver for me back in 2012 when I went travelling for 9 months. All I needed was a chair and a wall and I was set. I didn't even need the videos you get now showing you how to do the moves – it was just an image and noise to tell you when you start and stop.
Now, the apps are a lot more sophisticated and some even have different 7-minute workouts you can line up so that it's not too repetitive – perfect if you really are going to do 21 minutes instead of just the 7.
Apart from the simplicity of this, I love that the '7-Minute' label really helps me to get over that barrier to starting a workout. Even if I'm aiming for the longer workout, knowing that I could just do 7 minutes and still get my heart rate through the roof is enough to get me off my butt and moving. I mean, who hasn't got time to workout for 7 minutes? Compare that to when I've got an hour's worth of beasting lined up on LMOD or the prospect of 20 minutes of Jillian Michaels shouting at me, and the 7-Minute Workout just seems like a breeze.
I use the 7-Minute Workout Challenge on iOS, which is currently priced at $2.99 but there are plenty of Android versions that looks good too.
Pros:
You can literally do this workout from anywhere as long as you have a wall and a chair
It's quick
It's backed by science as the most efficient workout you can do
Cons:
It can get pretty boring, especially if you're repeating the sets
There's a small charge for the app
If I were to hand out awards for these (hey, maybe I can start the 'Jennys' – like the Oscars but for home workouts…) this is how they would go:
Best Home Workouts for Beginners: XHIT YouTube Channel
Best Low Impact Home Workout: DOYOUYOGA
Best Speedy Workout: 7-Minute Workout
Best Workout for Clear Progression: [easyazon_link identifier="B00127RAJY" locale="US" tag="progblogus-20″]30-Day Shred[/easyazon_link]
Best Overall Resource for Home Workouts: Les Mills On Demand
I hope this has given you some helpful ideas for the next time the gym is calling but the colder weather makes you want to stay put.
What's your favorite home workout?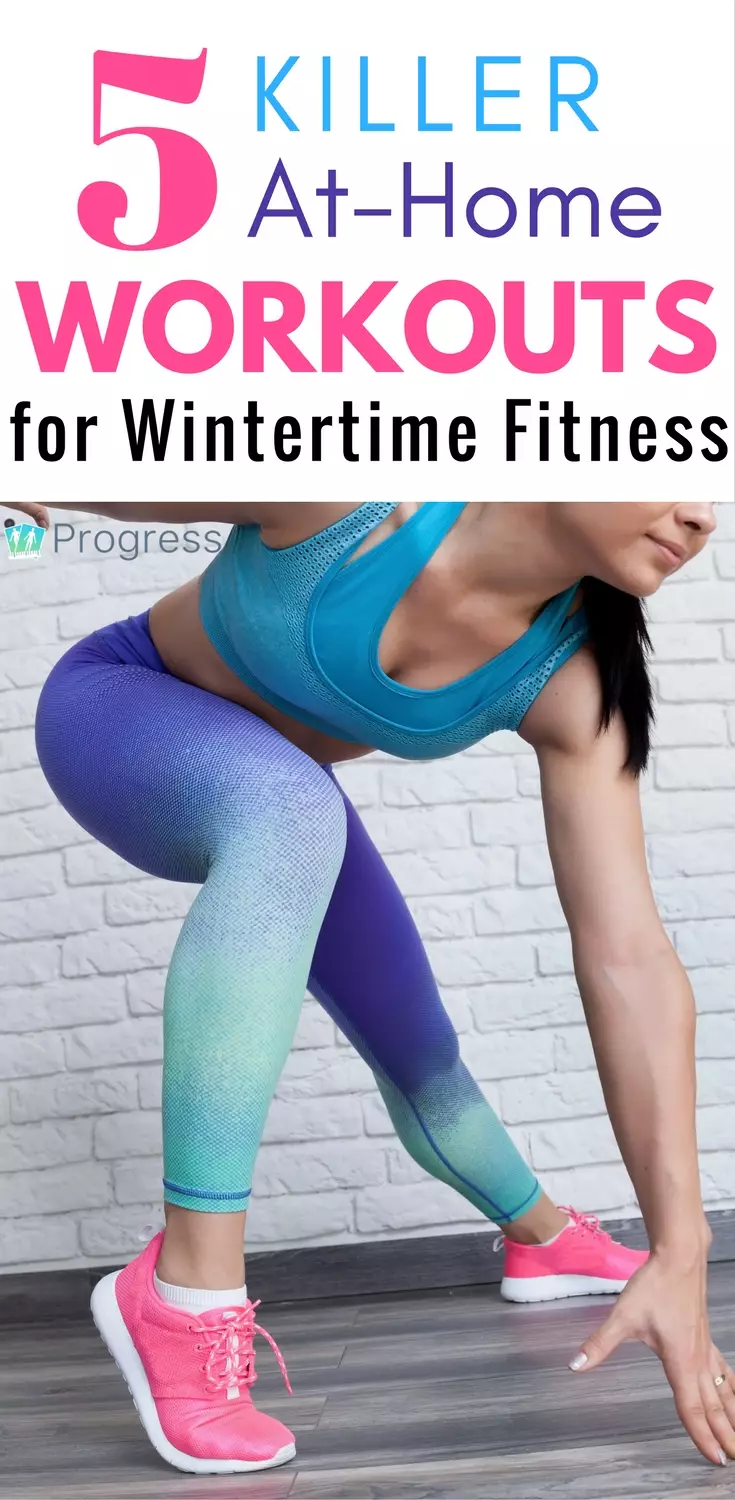 Some of the products we've included contain affiliate links, which means that if you click through and make a purchase, we may receive a commission at no additional cost to you. But rest assured, we only list products and services that we personally use or can recommend without hesitation.
If your goal is to lose weight, it's a good idea to track your weight, body measurements, body fat and progress photos to see what's working well for you and to see the changes you're making to your body.
Why not check out our guide to tracking weight loss like a pro? It's totally free and covers which body measurements to track, how to take awesome progress photos and how to monitor body fat percentage.