How many hours per day are you spending on your phone right now? If you're anything like us it's a lot! So why not take it from countless hours per month spent on social media and puzzle games, to some quality "me time", improving your health and increasing your weight loss accountability. YES, we do believe "there's an app for everything," especially for health & fitness.
So here's our list of the best weight-loss apps for iOS, whether we're talking about fitness & workouts, diet, calories, or tracking your journey.
1. Fitbit: All-in-one Wearable & App
One way to shed pounds is by keeping track of your exercise habits with a wearable activity tracker.
What can you do with it?
Record your steps and distance, when you carry your phone. For all-day tracking of stats like calories burned, active minutes, and sleep, pair the app with a Fitbit tracker
Track your food and water intake 
Analyze sleep habits
Set weight goals and keep track of them (this only includes weight, BMI, lean mass and body fat percentages, so you'll still need to be tracking your measurements
One huge community for extra-accountability: you can connect with your friends and even compete in Fitbit Challenges
Trina, one of the users of Progress, was sharing with us during an interview why she loves Fitbit: "I have a Fitbit Charge 2 which I love. Each day I start these solo challenges and the next day I try do get a few more steps. For me, it's motivating. They spoke to me, turning exercise into a game. And then Fitbit Coach I use on my iPad and I do the exercises in the house. I'm really an introvert, so gyms aren't my thing. FitBit Coach is pretty much a workout where each time you tell them how many reps you did and how hard it was for you and then the next workout is tailored for you. Some days, when my muscles are really stiff, I'll do the yoga ones."
Download the app: https://apps.apple.com/gb/app/fitbit/id462638897
2. My Fitness Pal: The Pal That Tracks Your Food
One of the most popular health apps, MyFitnessPal, make calorie counting easy.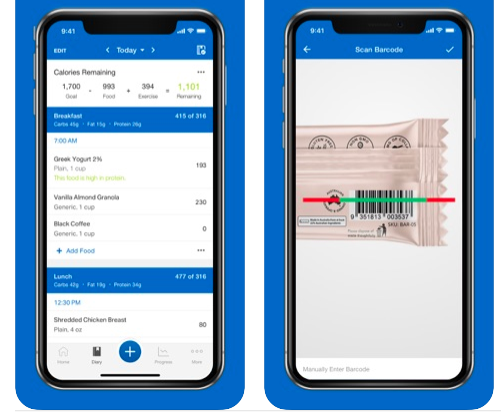 What can you do with it?
Track your food intake
Scan your food (over 6 million foods already included in their database)
If you use fitness-tracking apps such as Fitbit, MyFitnessPal will sync with them and adjust your calorie needs based on what you burned with exercise.
Download the app: https://apps.apple.com/us/app/myfitnesspal/id341232718
3. LIFE: Intermittent Fasting Is Easier with Friends 
A growing number of experts claim intermittent fasting can accelerate fat loss and make you healthier, and that's exactly what LIFE is about.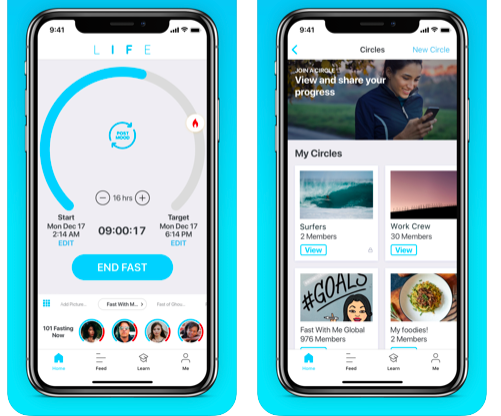 What can you do with it?
Track your progress on any fasting schedule with LIFE and fast with other people through LIFE Circles 
See when you start burning fats for fuel 
Log how you are feeling 
Supports all fasting schedules, including 16:8, 5:2, alternate day and more
Download the app: https://apps.apple.com/us/app/life-fasting-tracker/id1319306064
4. Fitbod: Your Personalized Workout Plan
According to its developers, Fitbod takes into account your strength-training ability, studies your past workouts and adapts to your available gym equipment. Start with a warm-up and build your way to resistance & strength training.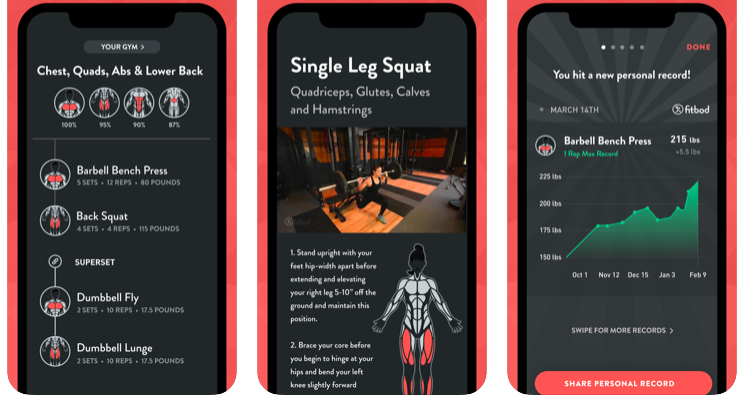 What can you do with it?
Apple Health integration
Get workouts that match General Conditioning, Strength-Training, Muscle Tone, Bodybuilding, Powerlifting or Olympic Weightlifting
View your workout impact on a body heat map
See the calories burned for each workout
Download the app: https://apps.apple.com/gb/app/fitbod-weight-lifting-trainer/id1041517543
5. Strava app: Tracking Running and Challenge Yourself 
If you love competitions and running, you should give Strava a try. It allows you to compare times with other people to boost your motivation. It also has a safety feature allowing users to share their real-time location with their family and friends.
You can use Strava to set up group challenges, such as the fastest 5K or most miles in a set period of time, to keep each other going.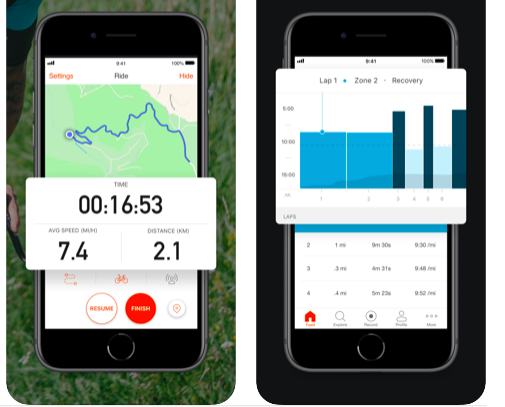 What can you do with it?
Track your running and riding with GPS
Join challenges
Share photos from your activities, and follow friends
Lewis, the lead developer of Progress, loves Strava: "I love getting 'thumbs up' from my friends! Not to mention that it always seems to find a section that I ran faster than before which is really motivating"
Download the app: https://apps.apple.com/gb/app/strava-run-ride-training/id426826309
6. Waterlogged: How About Drinking More Water?
Well, it's as simple as the name! It helps you keep track of how much water you drink, plus gives you the necessary nudge so you can remember to drink water. And if you're looking to have a healthier lifestyle and to stay fit, then you know how important water intake is for your progress!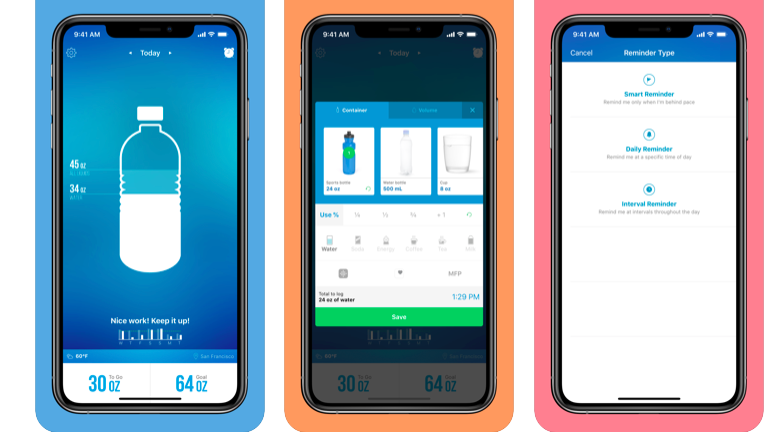 What can you do with it?
Select your daily water intake goal
Log in water consumption
Get reminders to have a sip of water
Check your progress
Download the app: https://apps.apple.com/gb/app/waterlogged-drink-more-water/id352199775
7. Streaks: How Many Days in a Row Can You Stick to Something
Accountability, accountability, accountability! It's the key to progress. One way of making sure you stay accountable is by forming new healthy habits. Day in and day out you'll be getting new simple tasks!
If you love winning then this one's for YOU! Don't skip your tasks and enjoy that winning streak!
What can you do with it?
Add daily tasks & schedule them
Keep track of your routine
Has nice integration with Apple Health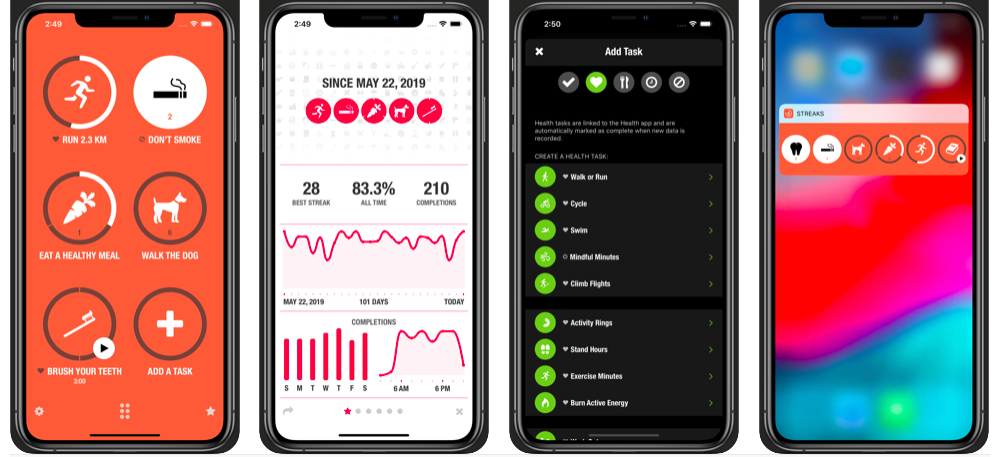 Download the app: https://apps.apple.com/us/app/streaks/id963034692?ign-mpt=uo%3D4
8. AutoSleep app: A Good Night's Sleep
Although sleep might be the last thing on your mind when you're planning your weight-loss journey, sleep can actually help you. A sleep-deprived body produces more stress hormones and this is a risk factor for weight gain and obesity. 
If you've got an Apple Watch, you just need to download the app and run it once to get it set up and you're done!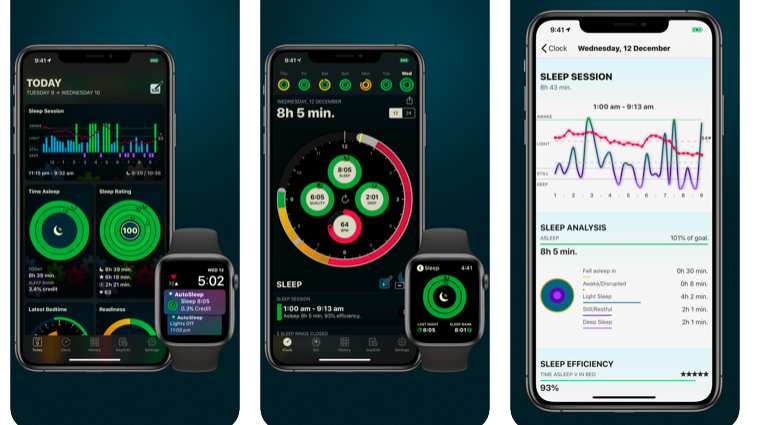 What can you do with it?
Analyze sleep quality
Nightly analysis
Get suggestions to improve your quality of life
Track how long it takes you to fall asleep after going to bed
Download the app: https://apps.apple.com/us/app/autosleep-auto-sleep-tracker-for-watch/id1164801111
If you prefer doing your training at home (or on the go) and are looking for an app that gives you different types of workouts (cardio, strength, HIIT, flexibility, etc.) Les Milles could be just what you need.
One of our Progress Accountability FB Group friends said: "I use this to access home workouts. I pay £9.99 a month for a sub to the service and I have to say, I absolutely love the BodyCombat classes. "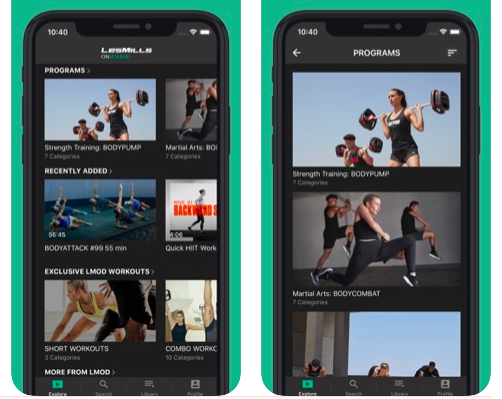 What can you do with it?
Choose workout length
Choose the type of program
Download workouts for later
Download the app: https://apps.apple.com/gb/app/les-mills-on-demand/id1015685995
10. Progress: Get The Full View on Your Weight-Loss Progress
Last but not least, you'll need to be tracking your body progress. And by that we mean much more than just your weight. With Progress health & fitness app, you can set-up your goal and then add all your measurements. Keeping track of your progress when you're losing weight allows you to see what's working and what isn't. And seeing the results is shown to increase motivation to keep going when things get tough.⁠
As one of our users says: "The feature I love most is that I can track any measurements I want and it reminds me to do them weekly. It shows you if you've gone up or down in weight, has cool milestone badges and has kept me really motivated. The graphs and the app reports are really helpful and easy to understand. Only tracking weight is a mistake. The times I didn't lose weight I found I lost inches so I knew I was still making progress."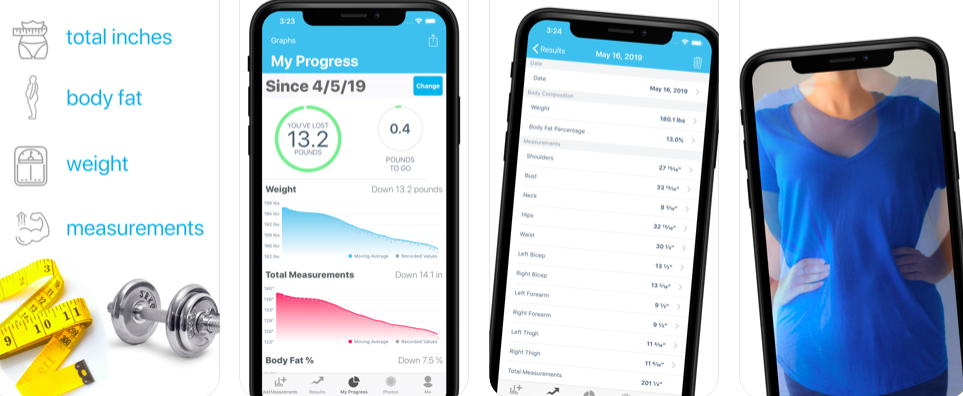 What can you do with it?
Add progress pictures and see how your body changed
Add measurements
Personalized Progress Reports
Integrates with Apple Health
Join the Progress Accountability FB Group to increase your accountability
Share Your Wins 
Download the app: https://apps.apple.com/app/apple-store/id583840813
Well, this is it. Now you've got all the apps to get you reaching those health goals. We'd love to hear about how you're doing, so join our Facebook Progress Accountability Group. Share your journey, ask for tips, and join our challenges.