We get a lot of emails asking about the health and fitness tools we use, so we've put together a list of our favorites.
Some of the products here contain affiliate links, which means that if you click through and make a purchase, we may receive a commission at no additional cost to you. But rest assured, we only list products and services that we personally use or can recommend without hesitation.
Here are our top recommendations – we'll be updating these as we go, so be sure to check back often!
Tracking tools
Tape Measure
Ever tried to measure your own bicep one-handed? It's hard! I'd always end up trying to keep one end in place with my nose while trying to get the other end around my arm… hilarious for anyone who happened to be watching but not great for actually taking the measurement.
Enter: [easyazon_link identifier="B000G7YW7Y" locale="US" tag="progblogus-20″]the Myotape![/easyazon_link]
It's simple – the tape hooks into the device to make a loop, which means you don't have to grow an extra pair of hands to log measurements. Lifesaver. And very inexpensive too.
[easyazon_link identifier="B000G7YW7Y" locale="US" tag="progblogus-20″]You can find out more about the MyoTape here[/easyazon_link]
Calipers
Although I usually go by the body fat readings from my bathroom scales (below), I take [easyazon_link identifier="B000QURRUK" locale="US" tag="progblogus-20″]caliper[/easyazon_link] readings roughly every month as a second opinion. My old personal trainer always swore by calipers, so I'm sticking with them. Check out our guide to taking body fat measurements to get the pros and cons of different methods.
[easyazon_link identifier="B000QURRUK" locale="US" tag="progblogus-20″]You can find out more about these calipers here[/easyazon_link]
Bathroom Scales
We use the [easyazon_link identifier="B01EO8YOQE" locale="US" tag="progblogus-20″]TSEC Smart Body Fat Scale[/easyazon_link] because the app that comes with it syncs nicely with Apple's Health app (which means it syncs with Progress too!). It's been very consistent so far and I like the extra detail in the app.
[easyazon_link identifier="B01EO8YOQE" locale="US" tag="progblogus-20″]There's more about the TSEC Smart Body Fat Scale here[/easyazon_link]
Apps
Progress
Yes, I know. Blatant self-promotion here. But it's true: we use Progress to track our weight, measurements, body fat and progress photos. In fact, did you know how the app came about? We created the app to help us get in shape for our wedding! It worked then, and it's still working for us now. Aw.
Download Progress from the App Store
MyFitnessPal
Although we follow a fairly relaxed version of the Slow Carb Diet, I like having a food logging app on hand whenever I notice my weight creeping up. It's usually because I've been a little TOO relaxed, and MyFitnessPal's huge database of foods means it's generally easy to track what I'm eating for a few weeks, look at my calorie consumption and make adjustments from there. Works every time.
Download MyFitnessPal from the App Store or from Google Play
Streaks
I always start the day with good intentions but it's so easy to lose track of time and forget to do the little things that keep me healthy. Streaks is great because you can set it up for any habit you want to maintain, and not only will it remind you but it also gamifies it by showing you your 'streak'. And who wants to break a streak once you have a few successes under your belt? Try it for things like exercising, filling out a food diary, meditating, drinking water, health journaling – whatever's good for you.
Download Streaks from the App Store
Headspace
I have a hard time with meditation but Lewis loves it. He swears by Headspace, a mindfulness and meditation app created by a former circus performer and monk…(!)
The annual subscription isn't cheap, but the different meditations for things like anxiety, self-esteem, sleep and productivity are really wonderful. You don't even have to pay to check it out – there's a great 10-day course you can try for free, as well as samples of more targeted sessions.
Download Headspace from the App Store or from Google Play
Kitchen
Meal Prep Containers
Busy week ahead? Prep all your lunches/dinners on Sunday, pop them into different containers and then just bring 'em out when you need them. Easy.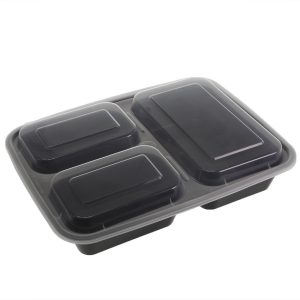 Take a look at other meal prep containers here
NutriBullet
This has proved to be a handy little addition to my kitchen since I bought it in January. I use my [easyazon_link identifier="B007TIE0GQ" locale="US" tag="progblogus-20″]NutriBullet[/easyazon_link] to whizz up soups, make my super green smoothie bowl and blend protein shakes. We also used it for an ill-fated foray into juicing, but that's another story…
Read reviews about the NutriBullet here
Diet
The 4-Hour Body by Tim Ferriss
I wrote an in-depth guide to the Slow-Carb Diet, but if you want the source material, this is it. The Slow-Carb Diet is only part of the book – as the tagline says, it's "An Uncommon Guide to Rapid Fat-loss, Incredible Sex and Becoming Superhuman." I'm not sure about that (the rest of it just seemed like filler to me) but if you're into lifehacking, this is a great read.
Protein Powder
Since Lewis has gotten into CrossFit, he's been all about the protein shakes – they're great for upping calories when you want to add muscle, and the protein is great fuel for performance and muscle repair. His CrossFit box recommended [easyazon_link identifier="B00IIJW9PE" locale="UK" tag="progbloguk-21″]this brand[/easyazon_link], and he's been very happy with it. It's not available in the US, unfortunately, but try searching grass fed whey protein to find something similar
Buy Icon whey powder here (not available in the US)
Exercise
CrossFit
Lewis is a card-carrying CrossFit convert. Since taking it up in January he's completely changed his body shape and built muscle, strength and endurance. It's not for everyone – it pushes you to your limits every time – but the results are worth it. And the great thing is, the workouts are easily scaled for whatever level you need, so pretty much anyone can join.
Find your local CrossFit box here
Les Mills On Demand
I absolutely adore Les Mills workouts. I used to go to the gym to get my fix of BodyPump (weightlifting), BodyAttack (sports conditioning) and BodyCombat (mixed martial arts), but then life happened and I found I couldn't get to classes at fixed times.
Luckily for me, there's now Les Mills On Demand, where you pay a subscription to access pre-recorded classes anytime you like. It doesn't just include those three different classes either, there's also BodyBalance (yoga/pilates), CXWorx (crazy core conditioning) and the Grit HIIT workouts. Sure, you need equipment if you're going to be lifting weights, but there's plenty of workouts you can do in the comfort of your own home without any other equipment apart from yourself. The subscription is around $12.99 per month (a bargain for all that content) and you can try it out for free with the one week trial.
Do You Yoga?
I got into yoga a couple years ago when I was in Thailand, but I'm awful at creating my own routines. I need someone to tell me what to next, but as I've mentioned, I can't always get to a class at fixed times. Do You Yoga? Has been excellent for helping me carry on my practice wherever I am and whatever busy schedule I have. I love all the free challenges they run, and how inclusive and welcoming they are for people at any level.
Yoga Paws
Speaking of yoga, I've found [easyazon_link identifier="B008EJM2AU" locale="US" tag="progblogus-20″]Yoga Paws[/easyazon_link] really useful for home practice. My hands and feet always get sweaty and slippery on a mat, so these are perfect for me (plus, no need to carry a mat when I travel).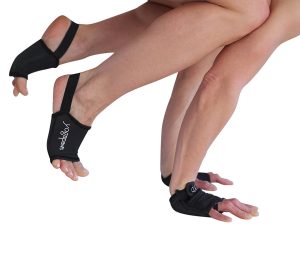 [easyazon_link identifier="B008EJM2AU" locale="US" tag="progblogus-20″]Check out Yoga Paws here[/easyazon_link]
Did you enjoy this blog post? If so, don't forget to share on Pinterest!